Last month,
we told you a little bit about the great boating action to be found at Missouri's huge Lake of the Ozarks
, otherwise known as LOTO. The eagerly-anticipated
Lake of The Ozarks Shootout
is the largest unsanctioned boat race in the United States, and was named by
Powerboat Magazine
as one of the "8 boating events that you must see." With speeds reaching well over 150mph on a mile-long drag course, boats from all across the United States, Canada, and beyond to vie for the honor of being "Top Gun".
Last year's 20th Anniversary event, which was held at the new location of
Captain Ron's
brought a new and exciting chapter to the shootout. Crowds over the two-day wekend were estimated at over 60,000 spectators, watching David Scott & John Tomlinson re-captured Top Gun Honors with a top speed of 178 mph. This year's Shootout will continue to benefit the Lake Area Rescue Teams, as well as Habitat for Humanity, and other charitable organizations.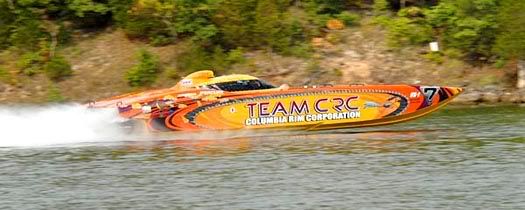 PHOTO CREDIT:

www.lakeshootout.com.
This year's event, scheduled for August 27-30, promises to be another exciting weekend, filled with high speed fun and lots of serious partying. Accommodations throughout the region tend to fill up fast, so if you're planning on heading out there, you better get on the phone now and find out what's available. Check out the event web site
HERE
for more information.
2009 Shootout Schedule - Friday / Saturday / Sunday
Friday, August 28, 2009
7:30am-7pm
Poker Run
8am
Registration and Start at Franky & Louie's
9am-6pm
On-site Registration on Cannonball Beach
9am-5pm
Racer Village open to public at Captain Ron's
9am-5pm
Vendor Booths open to public at Buccaneer Bay
6pm
Stereo Shootout presented by Waves & Wheels at Dog Days
8pm-12am
Platinum Powerboat Club Party at Cannonball Beach
Saturday, August 29, 2009
8am-4pm
Registration on Cannonball Beach
8am-4pm
Safety Inspections and Class Identification
9am-5pm
Racer Village open to public at Captain Ron's
9am-5pm
Vendor Booths open to public at Buccaneer Bay
8:30am
Driver's Meeting on Cannonball Beach
10am
Opening Ceremony
10am-11:30am
PWC classes run
11:30am-12:30pm
Professional/Manufacturer classes run
12:30-2:30pm
Open Classes Run
2:30-4:30pm
Professional/Manufacturer classes run
7pm
Live Entertainment at Captain Ron's
Sunday, August 30, 2009
8am-3pm
Registration on Cannonball Beach
8am-3pm
Safety Inspection & Class Identification
8am
Driver's Meeting on Cannonball Beach
9am-5pm
Racer Village open to public at Captain Ron's
9am-5pm
Vendor Booths open to public at Buccaneer Bay
10am
National Anthem
10am-12pm
Professional/Manufacturer classes run
12pm-2pm
Open classes run
2pm-4pm
Professional/Manufacturer classes run
4pm-4:30pm
Final Top Gun runs
6pm
Awards Ceremony at Captain Ron's
7pm
Live Entertainment at Captain Ron's