While the downturn in the economy has affected performance boaters everywhere, it hasn't stopped America's best boat builders from turning out incredible new boats that continue to impress with their technology and original design ideas.
Pantera
and
Nor-Tech
have recently introduced some new models that are highly expressive of the latter.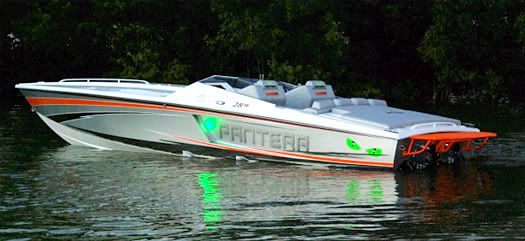 Pantera's new
28 SR
is a modified special version of its 28 model, which was launched to celebrate the company's 30th anniversary. The Pantera 28 SR features a newly designed twin stepped bottom design, new cockpit dashes and a new cabin layout. Particularly unique are the hull's recessed sides, which also feature special accent lighting (see the photo above) as well as headers which dump out the hull sides. Very sharp looking at night time, we suspect.
The interior is comfortable, but kept simple to keep overall boat weight light for top performance. It can sleep four persons in the forward vee berth and the two facing cabin settees. Standard power for the 28' hull is from a single 525hp Mercruiser, run through a Merc Bravo One XR stern drive. For more information, check out
Pantera's web site
.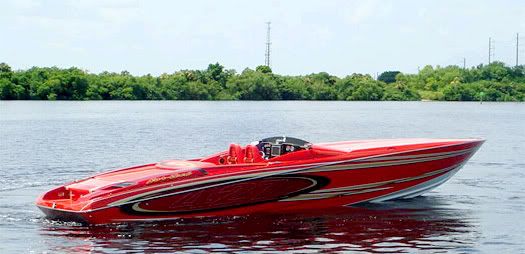 At the larger end of the spectrum, Nor-Tech's
427 Super Vee
is definitely a Big Bad Boat. This new model incorporates advanced exterior styling from the helm all the way back to the all-new transom design. Updated features include a hull-centered twin helm with dual steering, larger head compartment, a large center mount GPS panel and stand-up cat style bolsters.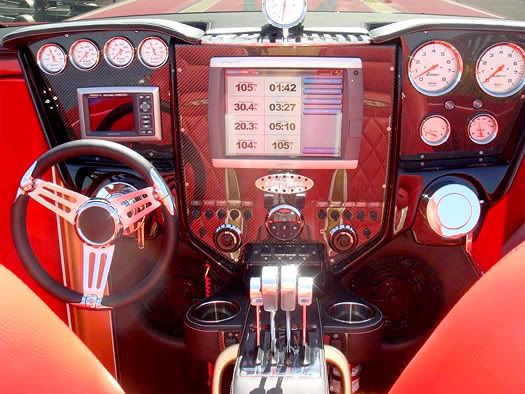 At the rear of the boat, there's a six-foot long recessed sun lounge, and between that and the swim platform, you'll find a trunk lid covering a "utility garage" which can conveniently hold items like a dive ladder, running light, dock lines and similar stuff.
The 427's powertrain consists of two Mercury 700's, which can push this boat to up over 100mph. Overall, this is a beautiful boat that represents some interesting new ideas...and it's a well-thought-out update of Nor-Tech's great 3900V. For more information on this and other great Nor-Tech boats, head over to their website,
HERE
.