PowerboatP1
is known for its exotic locations, and the upcoming race is no exception.
The Turkish Grand Prix of the Sea is set for June 19-21 in Istanbul
. The locale is a new addition to the series, and is the only city in the world that sits on two continents. Istanbul has a rich history dating back to 3000 BC, and with its unique mixture of European and Middle eastern cultures, is a really diverse, world-class city that has been selected to be the European Capital of Culture for 2010 by the EU Council.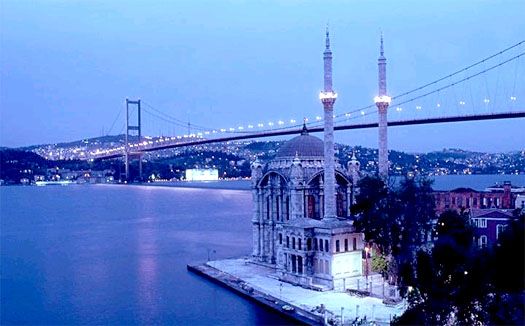 The
Bosphorus
, where the race will happen, is a narrow body of water that forms the boundary between the European part of Turkey and its Asian part. "Conditions will be slightly different to the normal ocean races, probably more choppy," says P1 Radio analyst
Martin Sanborn
. "I cannot wait for the weekend - just like everyone else at P1."
With flat waters, race speeds could be in excess of 120mph. Both Sanborne and his radio team member
Steve Ancsell
expect #10 team
Cigarette Smash Poker
to be the boat to beat in the Saturday's Sprint and Sunday Endurance races. The expected smooth going should give them an advantage, according to Sanborn: "In a calmer water race, I expect to see them racing really fast."
It's also important to note how much support Powerboat P1 is getting from the city for this race; the Bosphorus is being closed to shipping activity for the first time in seven centuries for the event. "There is no way we could have done the event if the Bosphorus had stayed open," said Powerboat P1 Chairman and Chief Executive
Asif Rangoonwala
. "With boats going at over 100mph, it is just not safe for other boats to be in the same vicinity. I was never in doubt that the Bosphorus would be closed and race given the go ahead."
To hear the race broadcast on live streaming radio, head over to
P1 Radio
HERE
.