Big Bad Boat
has just sponsored an entry in the
World Enduro Racing
series - a virtual F1 racing site where competitors from around the world go head-to-head to see who can get to the top of the leaderboard! The first time we checked this out, I admit to being a little confused, but the more I looked at it, the more attracted I became to the whole idea. After all, it's not every day you get to see your business logo on the side of a race boat, and noting that a number of other respected marine-related organizations (like
World of Powerboats, Aerocatch,
Viper Marine Group and the OCR Drivers Association
) it seemed like a great fit.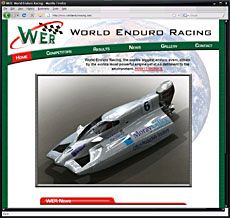 Essentially, World Enduro Racing (WER) works like this: The main website is set up like a virtual race, with a directory of competitors - sponsoring race teams - each of whom has their own individual business web page. Each time a visitor clicks on an incoming link (like the one at top left, or in the [B3] web page right hand column, it registers as a "lap" and is automatically tabulated on the WER site's RESULTS page.
It's fun, it's
FREE
to help us move up in the standings and check on race results, and the site is also a great directory of services and suppliers - not only for marine-related businesses, but for a number of other businesses as well. So please -
HELP US OUT AND CLICK ON THE LINKS
- so we can start heading to the front of the pack! You can start
here
right now! Thanks - and if you want to find out more, here's some
more information
about about WER.