A few weeks ago, Rich Lazzara from
Lazzara Yachts
was kind enough to feed us a few photos from the
Palm Beach Boat Show
. While checking out his site, I came across this incredible project they recently put together--a floating Sales Showcase that really has to be seen to be believed. Dubbed by the boating industry press as the "Belle of The Ball" at her introduction during the Ft. Lauderdale Show in late 2008, the vessel was built on a custom-made 90' x 40' barge platform. Lazzara's goal was really to "raise the level of the presentation" at boat show displays, and the whole thing came together in about 120 days. As far as raising the level of presentation, I think the photos here demonstrate that they succeeded in a remarkable fashion.
One of the first things Rich's group determined was that a used steel barge was not the quick solution they had hoped for as far as a floating platform; the available sizes and other considerations quickly ruled them out. They needed a custom, fiberglass barge--but it was clear that the cost of just building a custom 90' x 40' mold would be prohibitive - and would add up to more than the cost of the fiberglass barge itself. The solution? Use the construction building as the mold! [see below] Simply brilliant.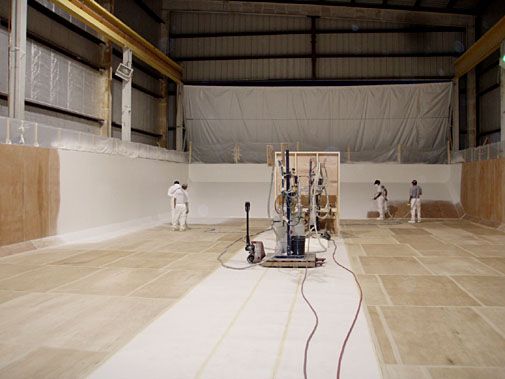 Of course, that was only one of the challenges they faced. Under extremely tight deadlines, they managed to complete this unbelievable project, which Rich explains:
"There was still 100,000 pounds of steel that needed to be welded and placed upon the barge to support the structure. Then there was thousand of pounds of 1.5″ think glass (Hurricane resistant to 150mph) that would be applied to the steel frame. Systems to make the barge self sustainable, like two 55kw generators, a waste treatment center, spuds (anchoring system) and ballast tanks for leveling. In addition the barge would need to have features to educate and entertain people. So to that end we have 22 TVs, 14 computer workstations,1000 watt stereo system, 8 Apple TVs, 6 touchscreen computer kiosks, a 17′ waterfall with LCD behind it, a 10′ x 20′ water wall, 25 tons of AC, 5 refrigerators, 2 ovens, and washer/dryer."
After construction, the showcase was towed 300 miles from Tampa to Ft. Lauderdale at a speed of about 5 knots. As you can imagine, the wind can sometimes play havoc when it comes to maneuvering the thing around. Yet--who wouldn't like to have something like this to tie up to at the end of the day? If you ever get a chance to visiting some of the Florida boat shows, you'll probably be able to check this thing out up close.
Thanks to Rich and his business for providing us with such an inspirational example of work. It's a real testament to how you can really make something happen if you can just envision it, and if you also have dedicated and skilled people to make it become reality. At the same time, I learned that the general idea of "building on a barge" was not totally new. I was looking through one of my old books on boat maintenance and marine-related articles, published by
Motor Boating
in 1952, and came across the plan for this barge-based floating "yacht club" [below] that was pretty neat.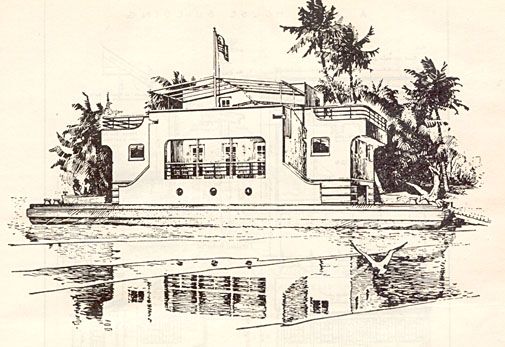 Very slick for its time. I guess that it's true when they say that sometimes, eventually "everything old is new again." If you want to see and read more about
Lazzara Yachts
and this Sales Showcase, check out Rich's in-depth blog story,
here
.