A few weeks back
we took a look at Tiki Bar culture
here on
B3
and I shared a couple of places I really like. A couple of our readers sent me some info on spots they enjoy as well, so I thought I'd post a couple up here. Like I said at the time, once you're done with your day of boating, relaxing by the dock watching the scenery and enjoying a cold one kind of go hand-in-hand. Of course, not all of these are Tiki bars in the strictest sense, but they do have the tropical, nautical feel you want when you tie up and plant yourself on a bar stool.
Mark Underwood
down in Central Ohio gave us the heads up about Buckeye Lake, which is just due east of Columbus; it's a 3500-acre lake with at least 13 popular watering holes along its shores, some of which will even allow you to dock overnight and sleep on your boat. Mark specifically singled out
Capt. Woodys, PaPa Boos
and
Island House
, and sent us some pictures, too. Above is a shot of the crowd at
Capt. Woody's
, and below is Mark, in his very nice, old-school Velocity 30. You might very well see him at Buckeye or up on Lake Erie - one thing's for sure, you won't miss that outstanding paint job! Also, check out Mark's website
here
.
Bob Carl
from NJ said that he really enjoys the
Nauti Goose
, in Northeast MD, at the upper end of the Chesapeake Bay. The "Goose" is a very popular hangout for powerboaters, as evidenced by the photo just below. Another favorite, sent to us by
Ed Scott
in Missouri, is
The Topsider
[bottom photo] located at Osage Beach on
Lake of The Ozarks
. According to Ed, they have it all--including a pool, apparently.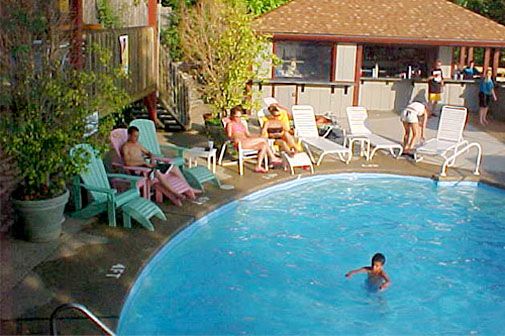 Thanks to everyone who sent us info and photos, we'd include them all but our space is limited. Maybe we'll do occasional updates on new places you find, or maybe at some point, even do a directory of your favorite tiki bars on the water.