Raising tremendous amounts of money for charity for a quarter of a century, the
Suncoast Super Boat Grand Prix Festival
wrapped up in Sarasota over the July 4th holiday weekend with another series of successful races and many thousands of spectators jamming the beaches to catch a glimpse of the action. Over all of those years, what many have called the "Indy 500 of Powerboating" has transformed from a basic one-day race into a week-long celebration, actually spanning two weekends and including car and motorcycle shows, parades, fishing tournaments, outrageous parties and much more. For many offshore powerboat fans, this event has become a real 4th of July weekend tradition.
CBS Television
even broadcast the race this year, which will be re-broadcast again later this year as part of the CBS Sports Spectacular. Early results had
Miss Geico
coming in first in Turbine Division and First Overall; they also set a new World record in the Friday Kilo Run of 184.002 mph. One of the keys to their success in the Grand Prix race was the Miss Geico's ability to negotiate the turns quickly and make up for a little less speed on the straight sections of the course: "The key to our win was absolutely the turns," Miss Geico driver Marc Granet said. "Our boat was set up perfectly to where we could maximize our turns and shorten the distance around the course."
The
Seminole Hard Rock Team
also set a Kilo Run record for Super Vee class, topping out at 120.698 mph. However, boat owner and throttleman Peter Meyer says that setting a new record could have come at a cost, as he thought they might have dropped a valve or broken a spring in the process.
Offshore folks who traveled to Sarasota to experience the event said the people were lining up on the beaches as early as 6:30 am -- which may be a little hard to believe, given all the hard partying that goes on over the weekend! Indeed, perhaps that's more of a testament to the extreme dedication of offshore racing fans.
We'd like to offer a shout-out and thanks to
Twitter
user
Tyukich
for the great parade shots;
the boat parade is always one of the biggest attractions every year - friends who were down there for the event last year kept telling me over and over again how impressive the boats are. One look and you'll agree.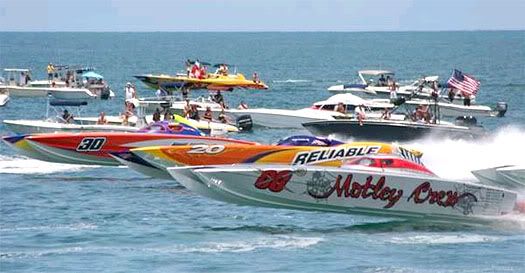 PHOTO CREDIT:
Sarasota Herald Tribune
Clearly, Sarasota knows what it's doing when it comes to putting on a great offshore powerboat event.
If more venues followed their lead, the sport would definitely have a higher visibility. To read more about event results, check out the Sarasota Herald Tribune article
HERE
. This is definitely an event to mark on your calendar for next year!