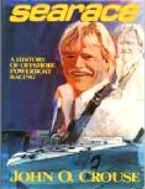 Back in 1989, offshore racer and internationally-respected journalist John Crouse published the most comprehensive and informative history of Offshore Powerboat Racing ever,
SEARACE
. Exactly what you would expect from someone who was an associate editor and columnist for Powerboat Magazine for two decades, the book provides an exciting and inspirational panorama of the sport--with it's unforgettable cast of characters and incredible stories of adventure offshore. Now a board member of
HORBA
, the
Historic Offshore Race Boat Association
, Crouse is well-known for his "no-spin" take on offshore racing, and his account of the sport's history is sure to hold your interest over the book's remarkable 680 pages.
Not only is the book packed with colorfully-written history, information and race statistics, but it's also loaded with historic photgraphs of famous racers and famous boats, and lavishly illustrated with 17 original paintings of the legends by the famed illustrator George Bartell and six by artist Richard Merchan. Aronow, Kiekhaefer, Nordskog, Gar Wood, Al Copeland, Betty Cook..they are all there, along with all the other famous names that mark the history of offshore racing.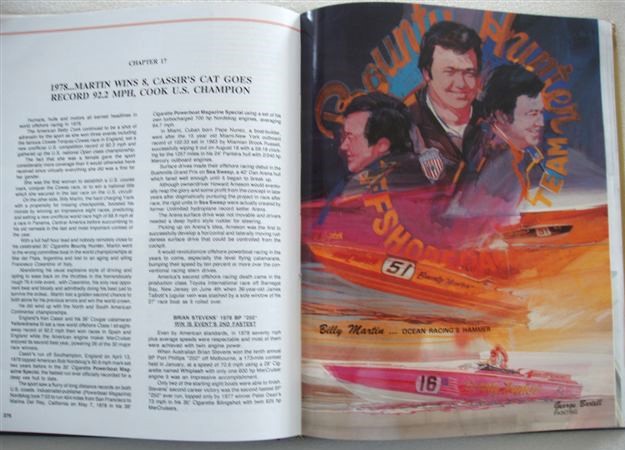 PHOTO CREDIT:

Historic Offshore Race Boat Association
Recently, word has come to us from HORBA Managing Director
Charlie McCarthy
that John has some storage issues with his book inventory and is interested in moving out some of what he has available. As a result,
the books are now available from HORBA at half-price
(
$35.00
), which is a great deal, considering the scope and completeness of this book. If you are interested in where the sport has been, and want to get "caught up" fast, there's no better way to do it than by grabbing yourself a copy of John's book. You'll be glad you did!